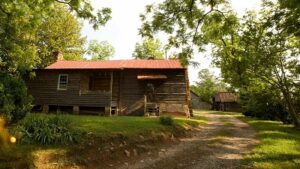 The Sandy Springs Conservancy's next Trail Blazers guided walk takes place at Hyde Farm in Marietta on Saturday, September 9 at 8:30 a.m. Our walk will be guided by a representative from Cobb County Parks.
The Hyde Farm Park, located just off of Lower Roswell Road in East Cobb, consists of 42 acres of green space and a renovated farm that was established in the 1830's. The land, farm, and buildings have been preserved as an educational and recreational facility. The park is part of the Chattahoochee River National Recreational Area and managed by Cobb County.
Located on the northwest bank of the Chattahoochee River, the area was originally Cherokee Indian territory. Hyde Farm was settled by James Cooper Power in the 1830s. Other American Indian villages were located just upstream from the farm, but those villagers were forced to leave as well during the Trail of Tears. Farmers borrowed American Indian farming traditions to grow their crops which included such things as sweet potatoes, pumpkins, squash, and beans. The Powers family worked the farm until 1874 when they began share cropping with James Alexander Hyde, Civil War Confederate veteran moving from South Carolina. The families worked together for 25 years. After James Power died in 1901, Hyde's son Jesse bought the farm in 1920. He and his family worked the farm until his death in 1972. The original log cabin still exists within the Hyde farmhouse. Currently, Hyde Farm is a total of 135 acres; 95 acres is jointly owned and managed by the National Park Service and Cobb County, the other 40 acres continues to be property of the Trust for Public Land.
Our guided walk will take an hour. Walks are limited to 25 participants and registration is required so please sign up today!
Hyde Farm


726 Hyde Rd
Marietta, GA 30068
About SSC Trail Blazers
Sandy Springs Conservancy's Trail Blazers is a new series of monthly guided walks and hikes at local parks from May to October!   Each month SSC Trail Blazers walks/hikes will take place at different parks in Sandy Springs and neighboring communities. SSC will provide knowledgeable guides to share the history of the parks and to lead small groups on hikes through the park and trails. Trail Blazers events will be scheduled for the first Saturday of each month. No walks in July or September due to holidays.
Participants will meet at the scheduled park or trailhead location. Each walk will last approximately one hour. Walks will be limited to 25 participants. The minimum age to participate is 10 years old, and anyone under age 18 must be accompanied by an adult. Participants must register and sign a liability waiver online. Registration is first come first served.  You will be contacted for cancellation/rescheduling in the case of inclement weather.
Read more about Trail Blazers.