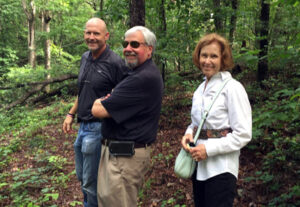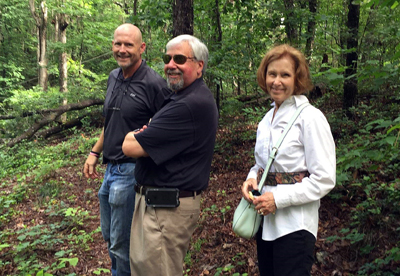 The public is invited to participate in a new program, the Sandy Springs Conservancy Trail Blazers, a series of monthly guided walks and hikes at local parks from May to October.
Each month, SSC Trail Blazers walks/hikes will take place at different park in Sandy Springs and neighboring communities. SSC will provide knowledgeable guides from the community to share the history of the park and to lead small groups on hikes through the park and trails. Sandy Springs Trail Blazers events will be scheduled for the first Saturday of each month. The goal of the program is to increase awareness and enjoyment of our city parks among residents and to get people outdoors to appreciate nature in our community.
The program kicks off on Saturday, May 7 at 8:30 am at Crooked Creek, a city of Sandy Springs park located in the northeastern part of Sandy Springs. The walk will be led by Sandy Springs City Councilman John Paulson, who advocated for the trail for years. The one-mile trail was completed in 2020, connecting Crooked Creek Park to the Holcomb Bridge section of the Chattahoochee River National Recreation Area.
On Saturday, June 4 at 8:30 am, SSC Trail Blazers will explore the Abernathy Greenway. SSC founding member and past Executive Director Linda Bain will lead the walk through the Playable Art Park, the Sculpture Garden and the Southside trail.
SSC Trail Blazers guided walks will be limited to 25 participants. Participants must register online, sign a liability waiver, and meet at the scheduled park or trailhead location. Future Trail Blazers walks/hikes will be scheduled through October and will resume next spring. Additional sites to explore may include Big Trees Forest, Lost Corner Preserve, Morgan Falls Overlook Park, Windsor Meadows, Chattahoochee River National Recreation Area and other parks in Sandy Springs and neighboring communities.
Click here for more information on scheduled SSC Trail Blazers Walk and to register.