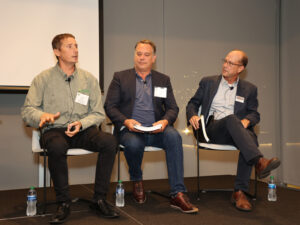 The Sandy Springs Conservancy's 2023 Thought Leaders Dinner brought together Chattahoochee River conservation, park and land preservation leaders to discuss the importance of and future plans for recreational opportunities and conservation efforts. The expert panel included Graham Dorian of the Chattahoochee National Park Conservancy; Walt Ray of the Chattahoochee RiverLands program of the Trust for Public Land, and Jason Ulseth of Chattahoochee Riverkeeper. The discussion was moderated by Gabriel Sterling of the Sandy Springs Conservancy board of directors. Many thanks to all of the Sandy Springs Conservancy's sponsors who make this event and the work of SSC throughout the year possible.  – View a Photo Gallery of the Event on Facebook –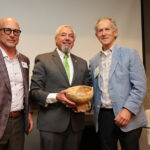 Prior to the featured panel discussion, SSC Chairman Jack Misiura gave an annual SSC update on projects, events and progress made in the last year on SSC goals. Steve Levetan, SSC Chair Emeritus was presented with SSC's annual "Greenspace Champion Award" for his many years of leadership and dedication as a volunteer board member and chairman.
The panel discussed the river's importance in the region and plans by the Chattahoochee National Park Conservancy, and the city of Sandy Springs to add more trails in existing parks. They also discussed the  importance of conservation and clean water programs as well as the RiverLands vision to create a network along the 100-mile river corridor that will united the river with the Metro Atlanta Region. – Sandy Springs Conservancy Hosts Discussion, Rough Draft Atlanta –
Sandy Springs has more than 20 miles of the Chattahoochee River flowing through it and six parks that have river access including three Chattahoochee National Recreational Area/National Park Service parks and three city parks.
The city of Sandy Springs along with support from the Sandy Springs Conservancy has embarked on a master plan of trails for the city, called the Springway, that includes trails along and leading to the river.
More than 150 guests attended the event at the City Springs Terrace Meeting Room on Wednesday, September 27, 2023, including residential and business leaders, sponsors and elected officials. Guests of the invitational event enjoyed a cocktail hour, seated dinner and the panel discussion about the theme for the evening, "The Chattahoochee River, a Treasure that Connects Us."
The annual Thought Leaders Dinner is the organization's signature event and serves as a catalyst for inspiring and cultivating big-picture, greenspace initiatives. The event brings together parks and greenspace experts from throughout the region with community leaders, city decision makers, prominent businesses, influencers, sponsors and donors.