Strategic Action Plan
2020 – 2025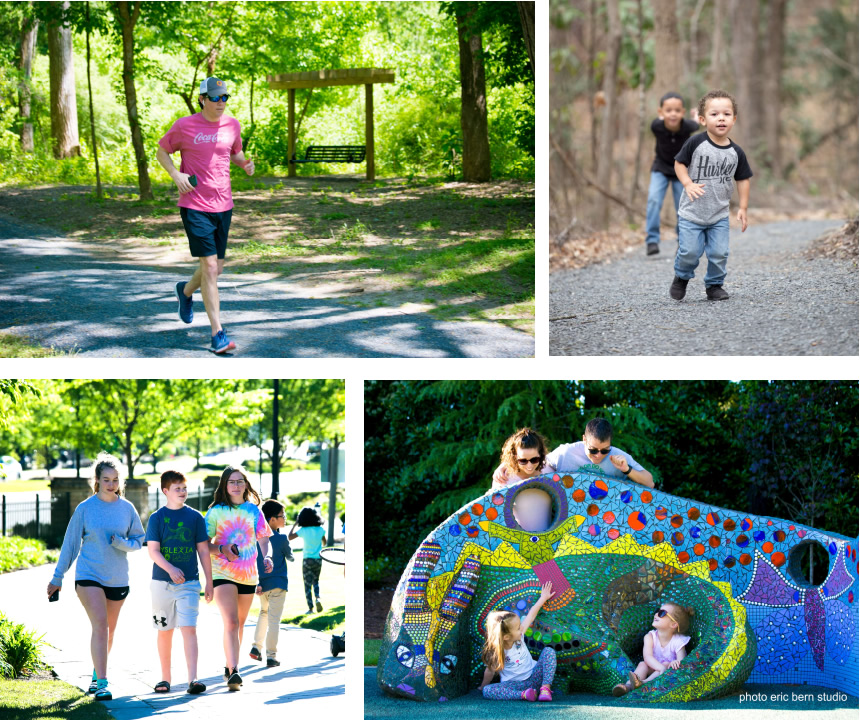 MILESTONES FOR THE FUTURE
The Sandy Springs Conservancy has been an astute and resourceful trailblazer since 2001 advancing its mission: to create, connect, and conserve parks and greenspace in Sandy Springs, Georgia. When several members of a Sandy Springs roundtable meeting raised concerns about conserving parks and greenspace in the area, they formed the Sandy Springs Revitalization Initiative, which became a 501c3 nonprofit organization to address this issue. This group subsequently formed the Sandy Springs Conservancy.

Starting with the opening of Morgan Falls Overlook Park and Trails in 2007, the Conservancy has provided educational, technical and financial support to create 100 acres of parks throughout Sandy Springs, recreational assets that are cherished by children and adults in our community. We are committed to work with public and private partners for new Sandy Springs parks, greenspace, and trails in the future.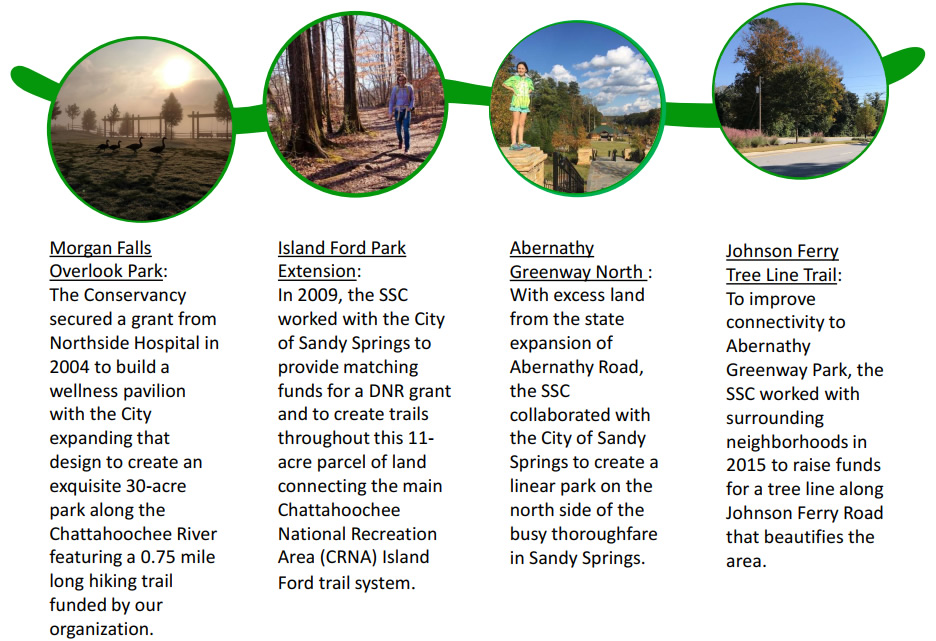 MILESTONES FOR THE FUTURE
As the sixth largest city in Georgia and the second largest city in the metropolitan Atlanta, Sandy Springs continues to experience much growth and expansion. The Sandy Springs Conservancy seeks a thoughtful approach to development and redevelopment in the city.
With critical seed funding, professional expertise, and community outreach, we facilitate projects that protect precious natural resources, inspire health and wellness, encourage social interaction, and boost economic development. We organize educational and volunteer programs that promote trails, parks and greenspace within our community. The Conservancy partners with city, county, and other organizations to plan, implement, and establish parks, greenspace, and trails and create non-vehicular access to these amenities.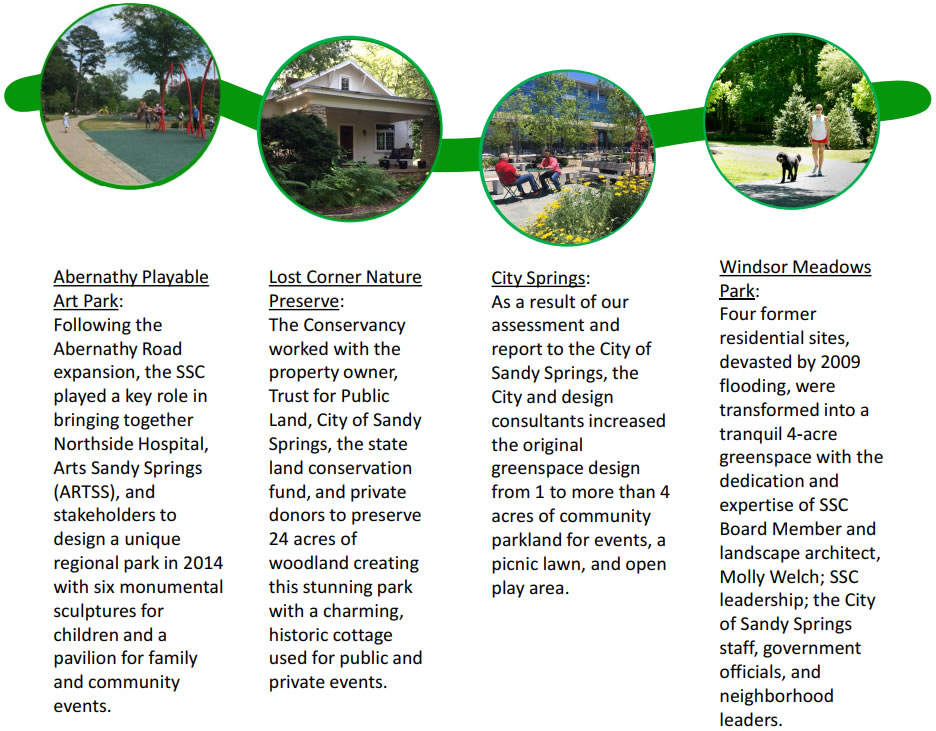 MILESTONES FOR THE FUTURE
In 2018 and 2019, the Sandy Springs Conservancy committed $43,000 in critical seed funding and expertise for the creation of the Sandy Springs Trail Master Plan in partnership with the PATH Foundation and the City of Sandy Springs. This plan lays out 31.4 miles of trails connecting twelve schools, fifteen parks, three MARTA stations, and numerous neighborhoods and employers.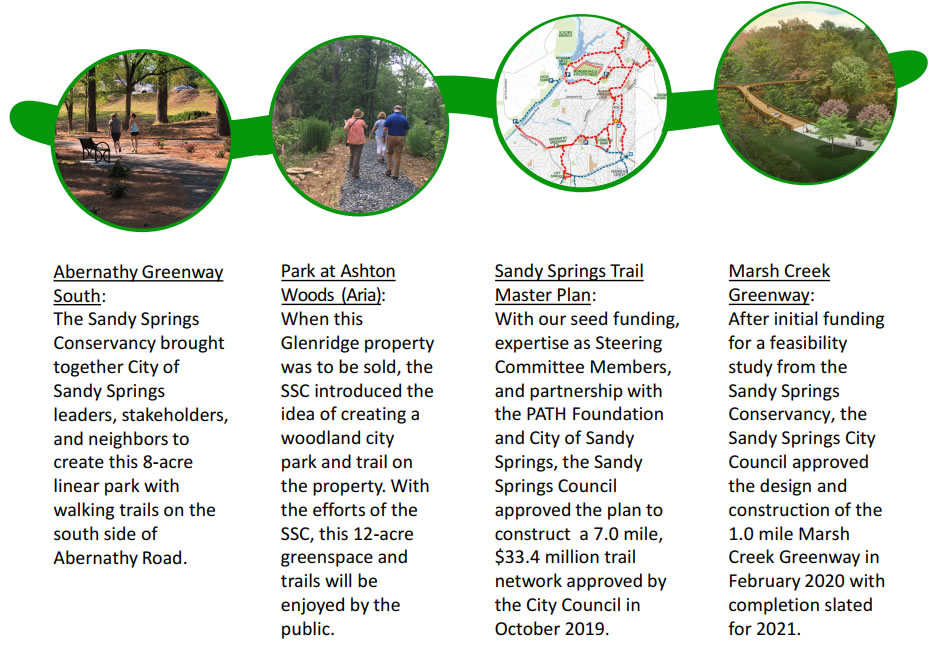 MILESTONES FOR THE FUTURE
Our organization has raised local and regional prospects for new parks and trails along the Chattahoochee River and in the North End District of Sandy Springs through participation in the Sandy Springs Trail Master Plan process, the Chattahoochee RiverLands regional project, and the local River Path and Access project with the City of Sandy Springs.
With 22 miles of river shoreline near a community ready for redevelopment, Sandy Springs has an asset unrealized in its potential use by the city residents, corporate employees, and visitors. The visionary leadership of the Sandy Springs Conservancy that helped to spring Morgan Falls Overlook Park, Lost Corner Nature Preserve, Windsor Meadows Park, the Marsh Creek Greenway, and other recreational amenities stands ready to contribute for the creation of more iconic parks, greenspace, and trails in Sandy Springs for years to come.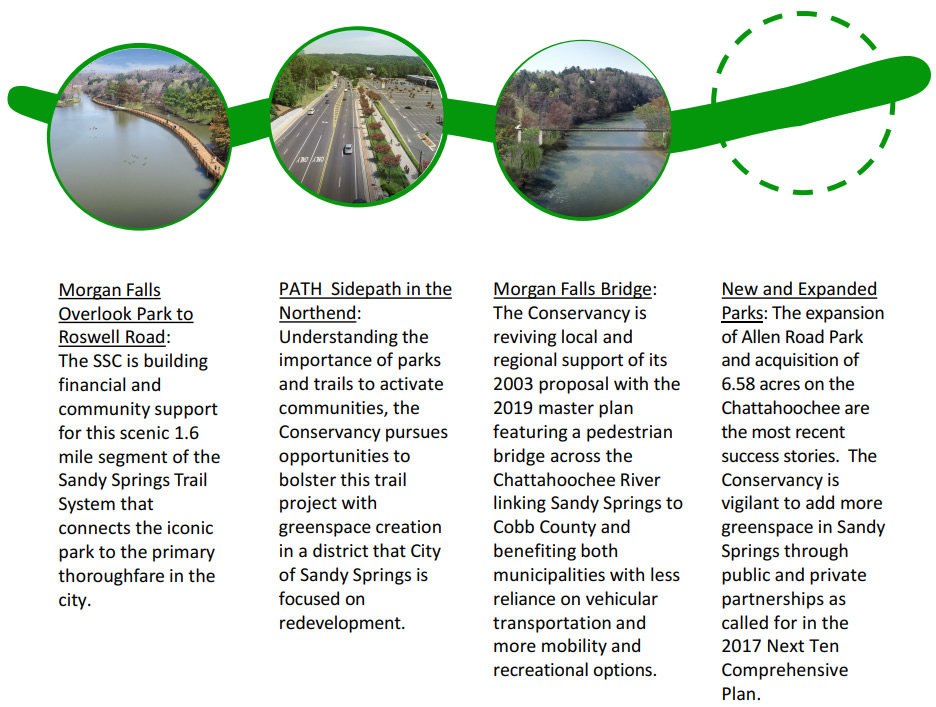 SSC Core Beliefs

Our mission to create parks, greenspace, and trails in Sandy Springs is the foundation upon which this strategic plan is based. Our long-term ambition is to continue to be recognized as the thought leader and leading advocate and implementor of parks, trails and greenspace in Sandy Springs. Our opportunity is to build upon our past experiences, partnerships and successes, continue to provide the gift of greenspace to enhance our community for generations to come, and remain instrumental with the implementation of the Sandy Springs Council-approved Sandy Springs Trail Master Plan.

The creation of our strategic plan is guided by the Conservancy's long-standing, core beliefs:
We Create Great Places – The Sandy Springs Conservancy has contributed over $800,000 in seed funding, education and expertise to create great public places in Sandy Springs.
We Connect Communities – With construction of the Marsh Creek Trail and the Sandy Springs Trail System, we strengthen physical connections to social bonds at local and regional destinations, such as the Sandy Springs Tennis Center and the Chattahoochee River.
We Conserve Precious Land – We have applied our knowledge of neighborhoods, expertise with land development, and passion for conservation to establish 100 acres of beloved parks and greenspace in the community.
We Promote Health and Wellness – Parks and greenspace created by the Sandy Springs Conservancy encourages healthy living by inspiring Sandy Springs residents, corporate employees, and visitors to walk, jog, run, bike, and play outdoors.
We Encourage Environmental Stewardship – Our trail clean-ups at the Morgan Falls Overlook Park raise public knowledge and appreciation for the popular one-mile nature path and make the trail more beautiful and user-friendly.
We Believe Parks, Greenspace and Trails Have Economic Value – Parks, trails and greenspace are economic engines that transform Sandy Springs from a place to go through to a place to go to.
STRATEGIC PLAN PROCESS
The Sandy Springs Conservancy will use this strategic plan to guide decision-making on projects, largeand small, and to establish priorities for projects, programs, communications, financial sustainability,  organizational  recruitment and development, and stakeholder, volunteer and staff engagement. This plan represents the beginning of ongoing work at the Board and staff levels, as well as in concert with the City of Sandy Springs, that will transform into a living, breathing document that continues to move the Conservancy forward in a responsible and sustainable manner over the next ten years. Inspired by the primary goal of strengthening existing and creating new partnerships, the Sandy Springs Conservancy will continue to be a local and regional leader in providing educational, technical, and financial support for the creation of new trails and greenspaces. We are at an exciting juncture and now have the tangible opportunity to provide a regional trail network, increase greenspace, promote non-traditional transportation options, enhance the health and wellness of our constituents, and attract corporate, professional and private citizens seeking an improved quality of life all the while strengthening Sandy Springs' reputation as a great place to live, work and play.
A detailed plan which itemizes opportunities, strategies and tactics has been developed which our Board of Directors, Staff and Volunteers use to achieve our Mission and Vision.