The Sandy Springs Conservancy has accomplished a whole lot in 2015.
CLICK HERE for snapshot of everything we've done.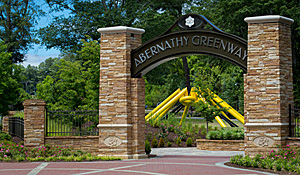 Join us for our second Trail Blazers walk on Saturday, June 4 at the Abernathy Greenway! The walk will be guided by Linda Bain, former Sandy Springs Conservancy director and founding board member. Walks are limited to 25 participants and registration is required so...
read more
Come visit SSC at the Sandy Springs Farmers Market on Nonprofit Day on Saturday, May 21! We'll have activities for the kids and representatives on hand to talk about SSC's efforts to conserve, connect and bring greenspace and parks to Sandy Springs! The Farmers Market...
read more