Th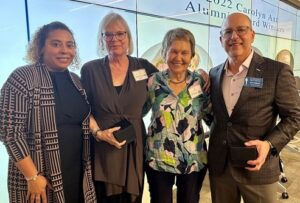 e Sandy Springs Conservancy is pleased to announce that our chairman, Jack Misiura, was one of three honorees to receive the annual Leadership Sandy Springs Carolyn Axt Alumni Award, a prestigious award honoring the contributions individual alumni have made to LSS and our community. The 2022 honorees were announced January 12, 2023, at the LSS event, Evening with Two Mayors.
Congratulations to:
Christine Heller, Class of 2013
Jack Misiura, Class of 2015
Mark Thomas, Class of 2017
Jack Misiura | LSS Class of 2015 – is Sandy Springs Conservancy Board Chair. Under his 6-year leadership, the conservancy has worked with the City and PATH Foundation to create the recreational trail plan and begin constructing the 1.8-mile Morgan Falls Trail – the City trail system that will eventually link to Buckhead and other bike/pedestrian trails throughout the Atlanta area. Jack also serves on the City's Parks and Recreation Committee and represents the Conservancy on The Trust for Public Land's Riverland Project – a big regional project to connect people to the outdoors – linking 19 cities, 7 counties, 42 water access points and 8 proposed campsites! He also hosts fun monthly breakfast or lunch "Meetings with Jack" to stay close to his 2015 LSS classmates!