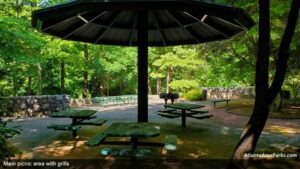 Discover Ridgeview Park on the Sandy Springs Conservancy's next monthly Trail Blazers guided walk, Saturday, June 10 at 8:30 am! Join us as local resident Collin Hubbard guides us through this little-known park on the south side of Sandy Springs.
Ridgeview Park is a great place to enjoy nature. The toddler playground, picnic areas, workout stations, and trails are all heavily shaded. The 21-acre park next to Ridgeview Middle School in the Highpoint neighborhood includes 20 workout stations with instructional signs, a picnic pavilion and wooded walking trails.
SSC Trail Blazers walks take about an hour. Walks are limited to 25 participants and registration is required.

Saturday, June 10, 2023 at 8:30 a.m.
Ridgeview Park
5200 South Trimble Road
Sandy Springs, GA 30342
About SSC Trail Blazers
Sandy Springs Conservancy's Trail Blazers is a series of monthly guided walks and hikes at local parks from February to November!  Each month SSC Trail Blazers walks/hikes will take place at different parks in Sandy Springs and neighboring communities. SSC provides knowledgeable guides to share the history of the parks and to lead small groups on hikes through the park and trails. Trail Blazers events will be scheduled for the second Saturday of each month.
Participants will meet at the scheduled park or trailhead location.  The minimum age to participate is 10 years old, and anyone under age 18 must be accompanied by an adult. Participants must register and sign a liability waiver online. Registration is first come first served.  You will be contacted for cancellation/rescheduling in the case of inclement weather.
Read more about Trail Blazers