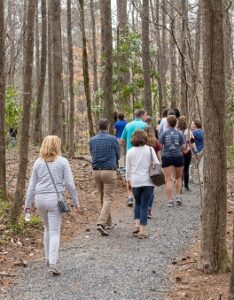 After taking a break for the winter months, SSC's monthly Trail Blazers series of walks will resume on Saturday, February 11, 2023 at 8:30 a.m. at Lost Corner Preserve! Join us as long-time SSC board member Carolyn Axt guides us through this special place in Sandy Springs.
Located on 24 acres of beautiful woodlands and nature trails, Lost Corner Preserve is a destination for nature lovers and history buffs. The property dates back to mid-1800's and was once a working farm that has had only two owners since Native Americans inhabited the land. Lost Corner Preserve is located at the corner of Brandon Mill and Dalrymple Roads. The park features a community garden, greenhouse, apiary, walking trails and a renovated cottage.
SSC Trail Blazers walks take about an hour. Walks are limited to 25 participants and registration is required.

Saturday, February 11, 2023 at 8:30 a.m.
Lost Corner Preserve
7300 Brandon Mill Road
Sandy Springs, GA 30328

About SSC Trail Blazers
Sandy Springs Conservancy's Trail Blazers is a series of monthly guided walks and hikes at local parks from February to November!  Each month SSC Trail Blazers walks/hikes will take place at different parks in Sandy Springs and neighboring communities. SSC provides knowledgeable guides to share the history of the parks and to lead small groups on hikes through the park and trails. Trail Blazers events will be scheduled for the second Saturday of each month.
Participants will meet at the scheduled park or trailhead location.  The minimum age to participate is 10 years old, and anyone under age 18 must be accompanied by an adult. Participants must register and sign a liability waiver online. Registration is first come first served.  You will be contacted for cancellation/rescheduling in the case of inclement weather.
Read more about Trail Blazers