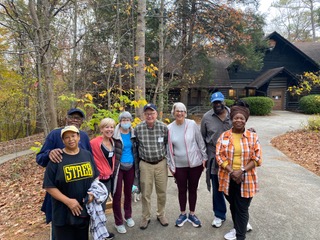 After a successful 2022 inaugural season of SSC Trail Blazers walks and hikes at parks in our community, the popular monthly events will resume in February 2023! Our guided walks will take place on the second Saturday morning of the month in 2023 and take about an hour. Walks are limited to 25 participants and registration is required. Registration is open for the following 2023 Trail Blazers Walks:
February 11: City Springs
March 11: Morgan Falls Overlook Park
Apri 8: Lost Corner Preserve
May 13: Ridgeview Park

About SSC Trail Blazers
Sandy Springs Conservancy's Trail Blazers is a series of monthly guided walks and hikes at local parks that began in 2022.  Each month SSC Trail Blazers walks/hikes will take place at different parks in Sandy Springs and neighboring communities.  Walks in 2022 expored Crooked Creek, Windsor Meadows, Big Tree Forest Preserve, Moorgan Falls Overlook Park and Island Ford at the Chattahoochee National Forest. SSC provides knowledgeable guides to share the history of the parks and to lead small groups on hikes through the park and trails. Trail Blazers events will be scheduled for the second Saturday of each month in 2023.
Participants will meet at the scheduled park or trailhead location. Each walk will last approximately one hour. Walks will be limited to 25 participants. The minimum age to participate is 10 years old, and anyone under age 18 must be accompanied by an adult. Participants must register and sign a liability waiver online. Registration is first come first served.  You will be contacted for cancellation/rescheduling in the case of inclement weather.