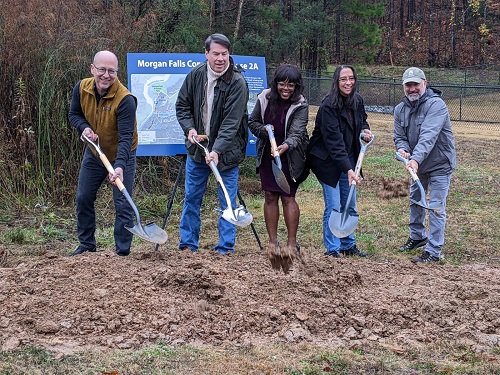 After many years of work by SSC, the City of Sandy Springs and others a groundbreaking took place on December 6, 2022 to begin construction of the first segment of trails outlined in the Sandy Springs Trail Master Plan! Mayor Rusty Paul and SSC Chairman Jack Misiura addressed attendees.
Segment 2A is a 1.6 mile section of trail that includes a scenic boardwalk across Orkin Lake, and will enhance access to the Chattahoochee River connecting Morgan Falls Overlook Park to Roswell Road at Cimarron Parkway. Despite the dreary weather there was a good turnout at the event at the Morgan Falls River Park/Dog Park on Morgan Falls Road.
The Sandy Springs Conservancy provided $30,000 to the City of Sandy Springs in support of the City's application for a $3M grant from the Georgia Outdoor Stewardship Program for construction of the segment. The project consists of the construction of an 8'- 12' wide multi-use, paved trail, retaining walls, drainage structures, pedestrian bridges, top-down boardwalk with concrete decking, roadway realignments, landscaping, and trail signage.
The Sandy Springs Trail Master Plan outlines a total of 31 miles of trails and the city committed to building 10 miles of it in the first 10 years.  SSC was a driving force in the creation of the plan, contributing $25,000 to the plan development. In 2019 a trail master plan committee was formed that included representatives from SSC, PATH and city staff. The plan was completed and adopted by the city in the fall of 2019.