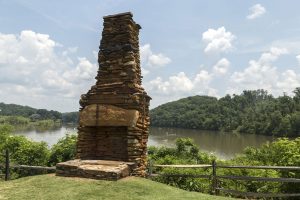 SSC Trail Blazers will tour Morgan Falls Overlook Park on Saturday, October 1 at 8:30 am! Our guided walk will take an hour. Walks are limited to 25 participants and registration is required so please sign up today!
A representative from the Sandy Springs Conservancy will guide the walk and tell us about the development of the park from an inaccessible wooded area to what it is today.
Morgan Falls Overlook Park opened in 2010, and it was the first new park created by the City of Sandy Springs.
The 30-acre riverside park includes picnic pavilions, a playground, restrooms, boat dock, hiking trail, fire pit, porch swings and scenic views of Bull Sluice Lake. The park offers many ways to enjoy nature along the Chattahoochee River.
Morgan Falls Overlook Park


200 Morgan Falls Rd
Sandy Springs, GA 30350
About SSC Trail Blazers
Sandy Springs Conservancy's Trail Blazers is a new series of monthly guided walks and hikes at local parks from May to October!   Each month SSC Trail Blazers walks/hikes will take place at different parks in Sandy Springs and neighboring communities. SSC will provide knowledgeable guides to share the history of the parks and to lead small groups on hikes through the park and trails. Trail Blazers events will be scheduled for the first Saturday of each month. No walks in July or September due to holidays.
Participants will meet at the scheduled park or trailhead location. Each walk will last approximately one hour. Walks will be limited to 25 participants. The minimum age to participate is 10 years old, and anyone under age 18 must be accompanied by an adult. Participants must register and sign a liability waiver online. Registration is first come first served.  You will be contacted for cancellation/rescheduling in the case of inclement weather.
Read more about Trail Blazers.