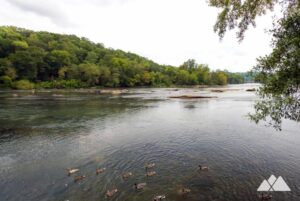 Join SSC for our bonus and final Trail Blazers walk of the year on Saturday, November 5 at 8:30 a.m. at Island Ford Park! Island Ford, part of the Chattahoochee River National Recreation Area, features three miles of hiking trails following the wide-flowing Chattahoochee River north of Atlanta. Island Ford trails are beginner-friendly and kid-friendly and feature several large cave-like rock outcrops on a wide loop.  Located in the northeast corner of Sandy Springs, Island Ford, is home to the National Park Service historic Hewlett Lodge visitor center. The 10.4 acre park is a big draw for all types of outdoor fun, including hiking, fishing, and wildlife viewing.
Our guided walk will take an hour. Meet the group at the entrance to the visitor center. Walks are limited to 25 participants and registration is required so please sign up today!
Island Ford Park


8800 Roberts Drive
Sandy Springs, Georgia 30350
About SSC Trail Blazers
Sandy Springs Conservancy's Trail Blazers is a new series of monthly guided walks and hikes at local parks from May to October!   Each month SSC Trail Blazers walks/hikes will take place at different parks in Sandy Springs and neighboring communities. SSC will provide knowledgeable guides to share the history of the parks and to lead small groups on hikes through the park and trails. Trail Blazers events will be scheduled for the first Saturday of each month. No walks in July or September due to holidays.
Participants will meet at the scheduled park or trailhead location. Each walk will last approximately one hour. Walks will be limited to 25 participants. The minimum age to participate is 10 years old, and anyone under age 18 must be accompanied by an adult. Participants must register and sign a liability waiver online. Registration is first come first served.  You will be contacted for cancellation/rescheduling in the case of inclement weather.
Read more about Trail Blazers.