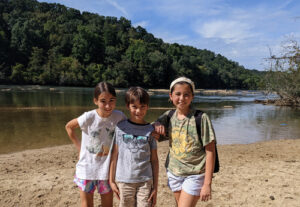 The Sandy Springs Conservancy's last Trail Blazers guided walk of 2023 will take place at the East Palisades unit of the National Park Service Chattahoochee River National Recreation Area on Saturday, October 14 at 8:30 a.m. Join us on a 1-mile walk along an easy dirt trail through the woods that follows the river. We'll explore and talk about the plants, flora and trees along the trail and river, and maybe even see some deer! Registration is required and space is limited.
The Palisades East Unit contains approximately 5 miles of easy to difficult trails. Winding through forested floodplains, ridges, and ravines, these trails display a natural beauty in all seasons. This outdoor classroom offers many experiences for plant and animal identification, geology and water quality studies. Large boulders along the river's edge make perfect settings for picnics. The cold river contains 22 species of game fish, including trout. The cold water conditions, while great for trout, can be dangerous to humans.

East Palisades Unit of the CRNRA
The Whitewater Creek Entrance
4058 Whitewater Creek Rd NW
Atlanta, GA 30327
CRNRA Daily Parking Pass $5.00 required
About SSC Trail Blazers
Sandy Springs Conservancy's Trail Blazers is a series of monthly guided walks and hikes at local parks from March to October! Each month SSC Trail Blazers walks/hikes will take place at different parks in Sandy Springs and neighboring communities. SSC will provide knowledgeable guides to share the history of the parks and to lead small groups on hikes through the park and trails. Trail Blazers events will be scheduled for the second Saturday of each month.
Participants will meet at the scheduled park or trailhead location. Each walk will last approximately one hour. Walks will be limited to 25 participants. The minimum age to participate is 10 years old, and anyone under age 18 must be accompanied by an adult. Participants must register and sign a liability waiver online. Registration is first come first served.  You will be contacted for cancellation/rescheduling in the case of inclement weather.
Read more about Trail Blazers.